Overview
This multimedia activity provides the learner with an overview of anatomy, physiology, and pathophysiology of lower extremity venous insufficiency. A great introduction to the topic area or a refresher for those already working in the field.
Free CE Credit for RNs and RTs.
CEU Content
Release Date: July 14, 2021
Expiration Date: October 1, 2023
Target Audience
This activity targets, but is not limited to, practicing nurses and radiologic technologist who desire to expand their knowledge and skills in vascular anatomy and physiology.
Learning Objectives
After completing this activity, participants should be able to:
Discuss the epidemiology of chronic venous disease in the United States
List the risk factors for varicose veins and chronic venous insufficiency
Explain the anatomy and physiology of the venous system in the lower extremity
Describe the pathophysiology of venous reflux and chronic venous insufficiency
Activity Goal
This activity is designed to address the following ABMS / IOM competencies:
Patient Care and Medical Knowledge
Disclosure
CineMed adheres to accreditation requirements regarding industry support of continuing medical education. Disclosure of the planning committee and faculty's commercial relationships will be made known at the activity. Speakers are required to openly disclose any limitations of data and/or any discussion of any off-label, experimental, or investigational uses of drugs or devices in their presentations.
All CineMed employees and subject matter experts in control of content have indicated that they have no relevant financial relationships to disclose.
Accreditation
In support of improving patient care, CineMed is jointly accredited by the Accreditation Council for Continuing Medical Education (ACCME), the Accreditation Council for Pharmacy Education (ACPE), and the American Nurses Credentialing Center (ANCC), to provide continuing education for the healthcare team.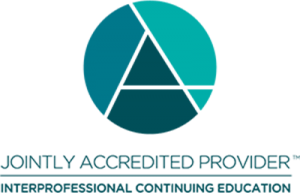 Nurses
This activity provides 1 contact hour for nurses.
Technologists
This activity has been approved by ASRT for 1 Category A Credits.
Society for Vascular Ultrasound (SVU) Credit
The Society for Vascular Ultrasound (SVU) designates this module for a maximum of 1 SVU-CMEs which are accepted by the American Registry of Diagnostic Medical Sonographers® (ARDMS®), the American Registry of Radiologic Technologists (ARRT) for Category A credit, Cardiovascular Credentialing International (CCI) and the Intersocietal Accreditation Commission (IAC) for laboratory accreditation.
Non Endorsement Statement
CineMed verifies that sound education principles have been demonstrated in the development of this educational offering as evidenced by the review of its objectives, teaching plan, faculty, and activity evaluation process. CineMed does not endorse or support the actual opinions or material content as presented by the speaker(s) and/or sponsoring organization.
Commercial Support
This activity is supported by an educational grant from Medtronic.